Australia's modernist movement had an enormous impact on the urban and cultural fabric of our country throughout the 20th century.
Its impact is felt far and wide, informing the design of everything from household objects and furniture, to the local swimming pool and the iconic Sydney Opera house.
It has transformed our art and design, our houses, infrastructure and urban spaces.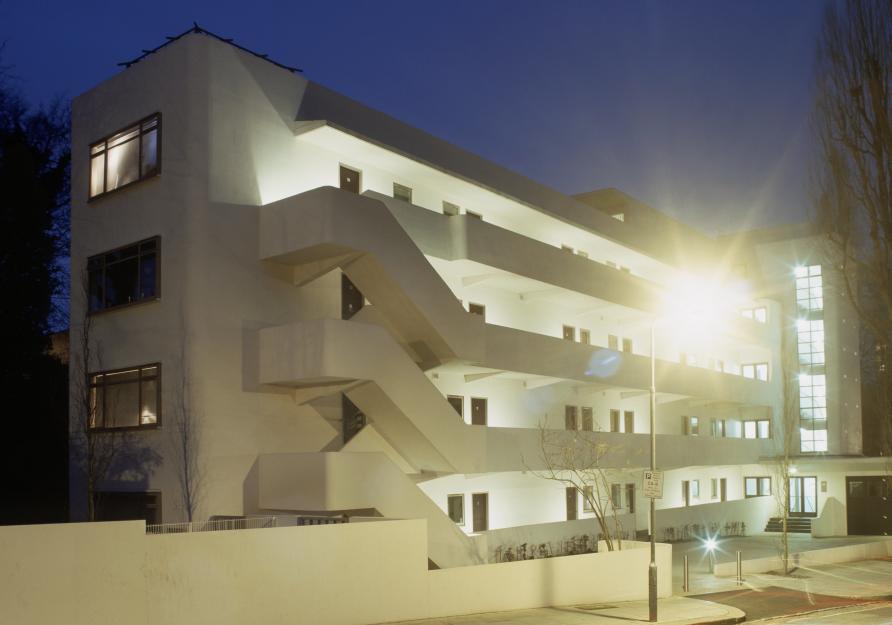 Modernist design ushered in a new way of thinking, leaving behind the historical styles of the Victorian era and prioritising the pressing needs of a new, rapidly growing nation.
Strong shapes, geometric forms and clean lines came to the fore in the decades before World War II and went onto evolve in a multiplicity of expressions through to the 1970s. Innovations in construction methods saw glass, steel and reinforced concrete used in ways never seen before.
Modernism in all its guises, heralded the creation of some of Australia's most recognisable examples of architecture and design.
Architectural historians Hannah Lewi and Philip Goad delve into this rich architectural legacy to choose their top well known and hidden gems.
Sanitarium Health Food Company Factory
Design: Edward Fielder Billson
Constructed: 1936-37
Location: Warburton, Victoria
Professor Hannah Lewi: Situated in the picturesque town of Warburton east of Melbourne, the former Sanitarium Factory is a tangible reminder of a lost faith in local manufacturing.
In 1940, it was awarded the Royal Victorian Institute of Architects Street Architectural Medal which was the first recognition for an industrial building and one outside of Melbourne.
Influenced by the Dutch Modernist Willem Dudok, the building consists of striking cream brick horizontal and vertical elements with bands of steel framed windows, blue glazed bricks and a tower complete with a large clock. With the Signs Publishing Factory next door, the site is set in a forest landscape, reflecting ideas of self-sufficiency and workers amenity.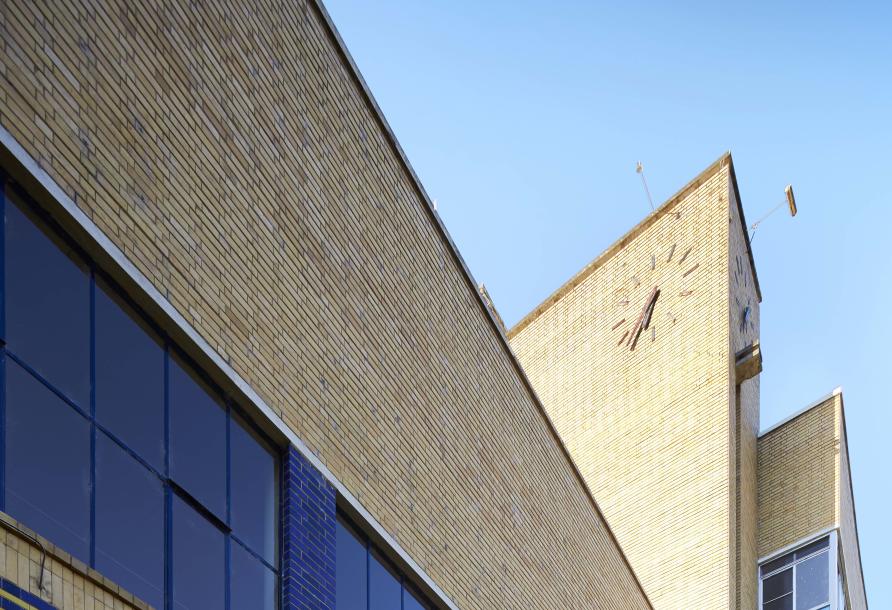 It survives today, protected by recognition on the Victorian Heritage Register, but still looking for new and viable uses.
Cairo Flats
Design: Taylor, Soilleux & Overend
Construction: 1935-36
Location: Fitzroy, Melbourne
Professor Philip Goad: Cairo is a two-storey, U-shaped block of tiny bachelor flats in Melbourne's inner suburb of Fitzroy designed by Best Overend.
He had returned to Australia from London where he had worked for modernist architect Wells Coates on the much-celebrated Isokon, also known as the Lawn Road flats, in 1934. These flats were home at one time to émigré architects Walter Gropius, Marcel Breuer and László Moholy-Nagy, as well as the crime-writer Agatha Christie.
In Melbourne, Cairo was the same: a modernist icon and home at one time for architects Frederick Romberg, John Mockridge and others in the 1940s.
Decades later, I endured its existenz-minimum interiors. But I loved its rooftop overlooking the Exhibition Gardens, its daring cantilever concrete stair and its wonderfully large central garden – an oasis of peace and greenery just steps from the city.
Today, it still retains all the excitement and relevance of a new and modest way of living.
Woomera Village
Design: Commonwealth Department of Works and Housing
Construction: 1946-67
Location: South Australia
Professor Hannah Lewi: Undoubtedly the most remote example in the Australia Modern list, the isolated village was designed to create a community around the Australian Long Range Weapons site in South Australia.
The scheme planned and constructed prefabricated housing for service personnel, workers and their families along with landscaping and amenities including a school and a theatre in an attempt to mitigate the harsh living conditions.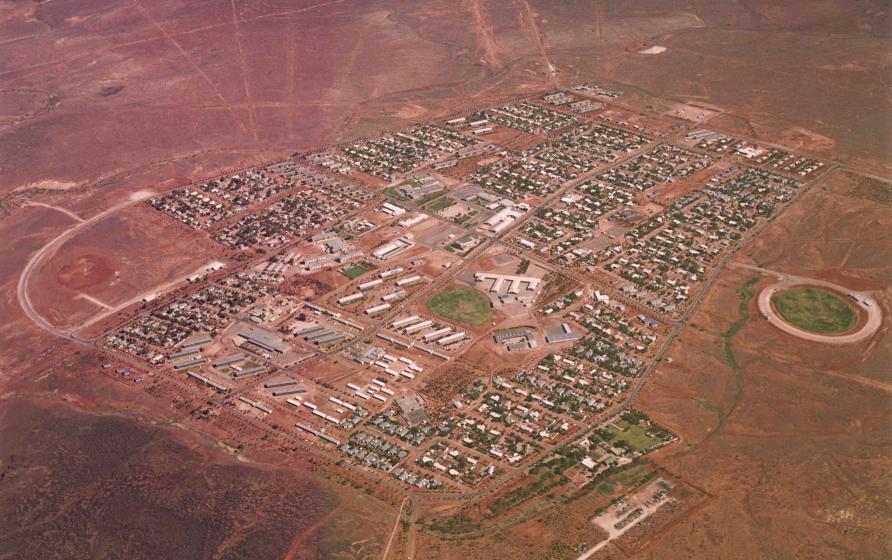 Striking images from the period of Woomera's heyday picture a relentlessly red, dusty place only punctuated by green sporting ovals and a planted greenbelt from locally established native trees.
Lobster Bay House
Designer: Ian Mckay
Construction: 1971-72
Location: Pretty Beach, New South Wales
Professor Philip Goad: Rarely seen and little known, even within the architectural profession, this house designed for the photographer David Moore is one of Ian McKay's best residential designs.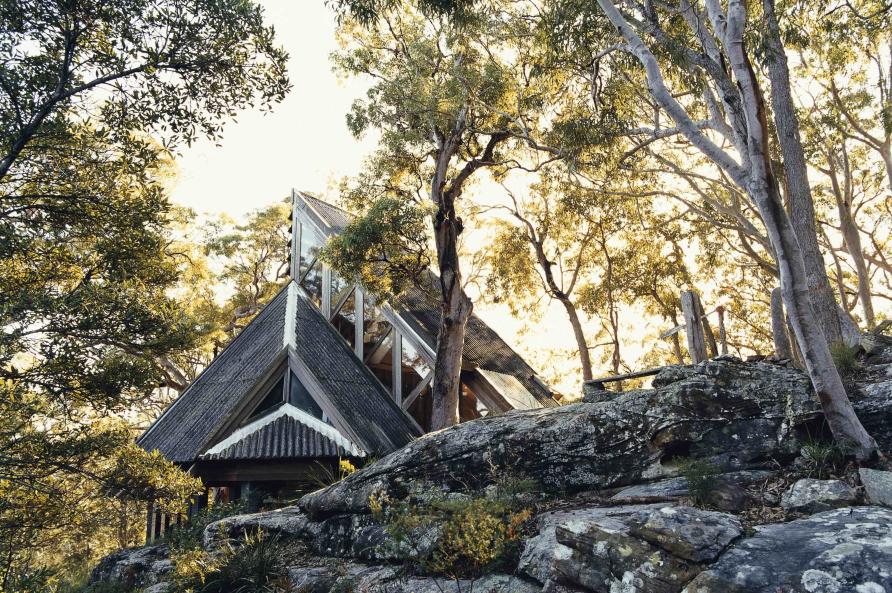 It incorporates a series of geometrically derived shed-like forms that nestle comfortably into a startling rocky landscape by the sea.
One of Australia's unsung modernists of the humanist kind, Sydney architect Ian McKay's early work was strongly influenced by the organic principles of Frank Lloyd Wright's architecture.
By the late 1960s, he had extensive experience designing housing and housing estates for the National Capital Development Commission in Canberra.
With this experience, he became vocal in advocating for better quality in residential design across all scales, publishing the seminal survey, Living and Partly Living: Housing in Australia in the same year that Lobster Bay House was under construction.
Beaurepaire Centre
Design: Eggleston, MacDonald & Secomb
Construction: 1954-57
Location: University of Melbourne, Parkville campus, Melbourne
Professor Hannah Lewi: The Beaurepaire Pool and Gymnasium is a highly awarded example of modern architecture and art, united to create a special place in the lead up to Melbourne hosting the Olympic Games in 1956.
The pool was instigated and sponsored by the businessman, politician and swimmer Sir Frank Beaurepaire.
The architects collaborated with the engineer Bill Irwin who also worked on the Sidney Myer Music Bowl and the Melbourne Olympic Swimming Stadium to design a glazed, light-filled enclosed 25-metre pool and sporting facilities.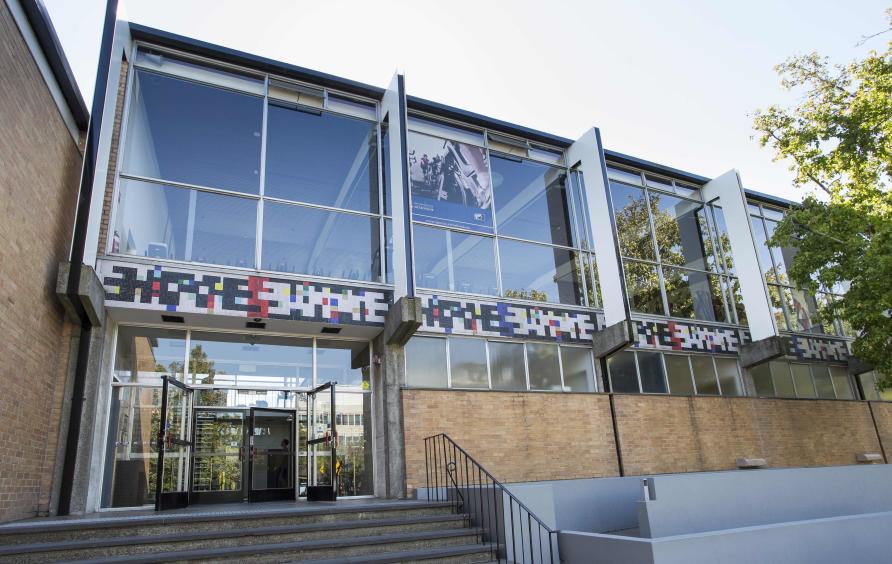 They also worked closely with the artist Leonard French, who created a striking mosaic-tiled frieze around the building's exterior facades and the colourful, abstract mural Symmetry of Sport for the upstairs gym and trophy hall.
The complex was sensitively restored by Lovell Chen with an award-winning upgrade in 2003.
Australian Academy of Science
Design: Grounds, Romberg & Boyd
Construction: 1956-59
Location: Canberra, Australian Capital Territory
Professor Philip Goad: The auditorium of Roy Grounds's Australian Academy of Science (now the Shine Dome) is one of the great interiors of Australian post-war modernism.
Scientists could lounge in super comfortable double 'settees', designed by Fred Ward and upholstered in fabric supplied by Australian textile designers, eclarté.
Around them timber battens on the surrounding curving wall produced a Moiré Pattern that sent many of them to sleep – so strings had to be inserted between each batten specially to stop this visual phenomenon.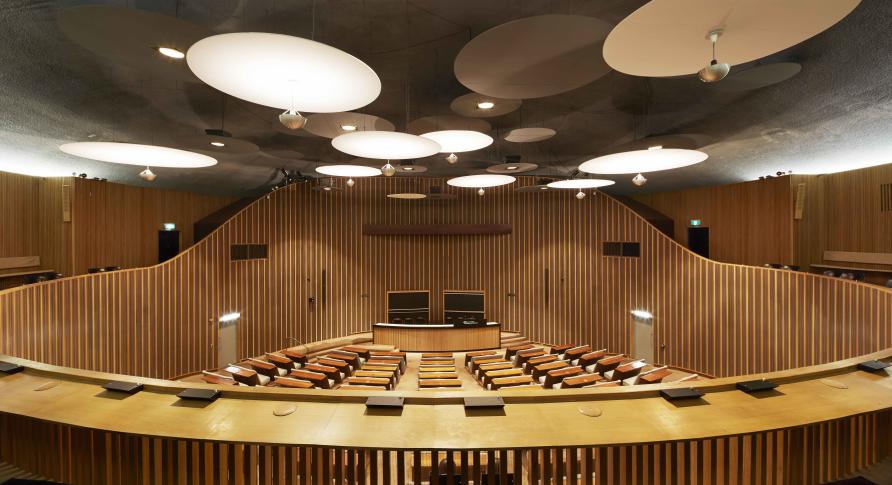 Above, the conference chamber has a ceiling of floating plywood discs of different sizes and distances from the concrete shell above. The overall effect is like a magnified Milky Way dotted with stars that are in fact lights.
While nicknames for the thin-shell, scalloped dome building like 'Beehive for Boffins' and 'Martian Embassy' abounded at the time, the Academy of Science has come to be admired and revered.
Its restoration was completed in 2001.
Foulkes Taylor showroom
Designer: Julius Elischer
Construction: 1965
Location: Nedlands, Western Australia
Professor Hannah Lewi: For anyone who studied architecture in Perth, this building located adjacent to the University of Western Australia campus, has endured as an inspiration, with many sketching expeditions mounted to study its modelling of light and shade.
Designed by Julius Elischer for the Perth patron of modern design David Foulkes Taylor, the building was commissioned to showcase and sell furniture from the mid-1960s onwards.
Inspiration from the famous architect Le Corbusier is visible in the artfully arranged windows of coloured glass punched into the bagged, white brick façade.
It was given a new lease of life in 2005, when purchased by the Western Australian Institute of Architects and renovated by Bernard Seeber Architects.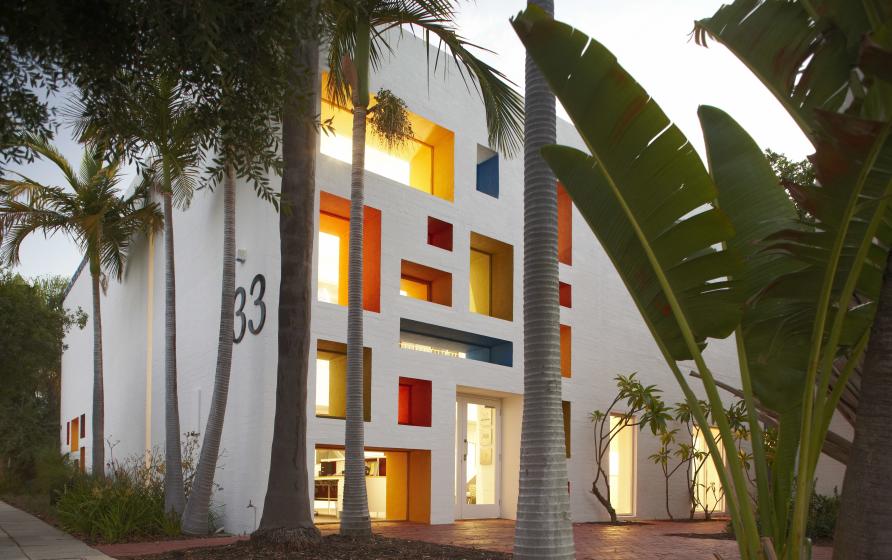 St Mary's Star Of The Sea War Memorial Cathedral
Design: Donoghue, Cusick & Edwards
Construction: 1955-62
Location: Darwin, Northern Territory
Professor Philip Goad: How do you build a modern cathedral in the tropics? What form might it take?
The Brazilians knew how and St Mary's Star of the Sea takes its cue from the catenary arches of Oscar Niemeyer's concrete shell vaults of St Francis of Assisi at Belo Horizonte built in 1943.
But otherwise this Darwin church is completely different.
It has a campanile (tower) of local porcellanite stone and, instead of a single concrete form, it is a ribbed series of catenary arches with projecting rectangular bays to either side and it has a traditional 'crossing'.
The entire length of both nave walls can be opened up by a series of glazed doors and above, off-centred windows puncture blank walls and at eaves level, a concrete grill runs the full length of the building's eaves – all for maximising ventilation.
Inside, an unusual feature is artist Karel Kupka's depiction of the Virgin Mary and Child as Indigenous Australians.
Macquarie University Campus
Design: New South Wales Government Architect's Office
Construction: 1964-76
Location: North Ryde, Sydney
Professor Hannah Lewi: The 1960s witnessed a surge in building for higher education and training. With the sector growing rapidly, it was an important testing ground for Australian architects, landscape designers, planners and artists.
The Macquarie campus is a highly significant example of this boom.
This multi-stage building and landscape program created a unified ensemble of strong off-form concrete and brick buildings, linked by landscaped courtyards and bush planting.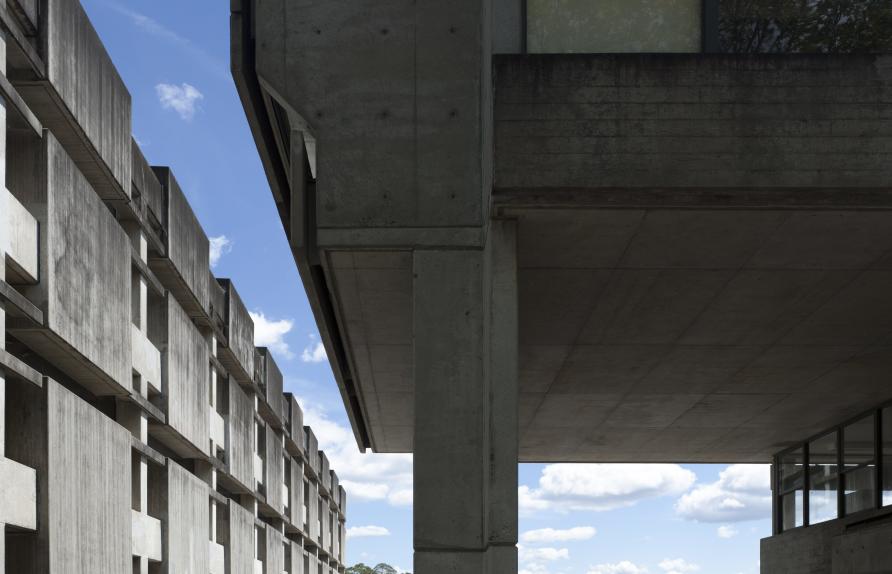 In particular, the library, with dramatic square concrete shading panels on its façade, formed a striking focal point for students and the new university community.
Today, like all universities of this era, the original unity of the campus faces significant pressures through ongoing redevelopment and maintenance programs.
Queensland Art Gallery
Designer: Robin Gibson & Partners
Construction: 1973-82
Location: South Bank, Brisbane
Professor Philip Goad: Still a modern classic, the Queensland Art Gallery has magically survived despite changes all around it, to both the Gibson-designed library and his theatres building next door.
Perhaps what makes this gallery feel timeless is its beautiful top-lit 'Watermall', one of the finest modern Australian gallery interiors of the 1970s.
Gibson designed the gallery after a world tour of similar institutions and what he produced was, in effect, a critique of and an improvement upon other better-known and more celebrated galleries such as Kevin Roche's Oakland Museum of Art (1961-68).
Better lit within, better suited to its riverside site, with durable surfaces like travertine and off-white precast concrete panels, the Queensland Art Gallery was also part of a move generally in the 1970s to reclaim and reinvigorate neglected river-side sites in Australian cities as highly desirable, public open urban spaces.
The exhibition Australia Modern: from the iconic to the everyday is currently on show in the Dulux Gallery at the University of Melbourne until August 22. The exhibition celebrates the rich modernist design legacy in Australia and is curated by Philip Goad and Hannah Lewi, taking inspiration from their new book titled Australia Modern: Architecture, Landscape & Design. Presented in partnership with Open House Melbourne, the exhibition is part of the BE – 150 programme, celebrating 150 years of built environment education at the University of Melbourne.
This article was first published on Pursuit in two parts. Read the original articles here and here.

src="//track.web.unimelb.edu.au/pursuit/pageview.png?location=https%3A%2F%2Fpursuit.unimelb.edu.au%2Farticles%2Faustralian-modernism-s-top-10-part-one&title=Australian+Modernism%E2%80%99s+Top+10%3A+Part+One&path=%2Farticles%2Faustralian-modernism-s-top-10-part-one&campaign_name=Pursuit+republishing&campaign_medium=republish&campaign_content=Australian+Modernism%E2%80%99s+Top+10%3A+Part+One" />