The latest senior public sector appointments from across the country.
Senior Executive Service
Band 3
James Larsen has been appointed to the role of deputy secretary of the environment and heritage group in the Department of Agriculture, Water and the Environment. He is currently seconded to the Department of the Prime Minister and Cabinet, where he has been first assistant secretary of the National COVID-19 Coordination Commission division. He has previously served as first assistant secretary of the Department of Foreign Affairs and Trade's legal division, among many other roles at the department.
Justin Hayhurst has been named deputy secretary, Indo-Pacific group at DFAT. He was most recently first assistant secretary, international division, at the Department of the Prime Minister and Cabinet. Prior to that, he was lead drafter of Australia's 2017 Foreign Policy White Paper.
Band 2
Daniel Fankhauser and Peter Sawczak have taken on Band 2 roles at the Department of Defence.
Elizabeth Neville has been promoted to general manager, government & ILC programs at the National Disability Insurance Agency, while Geraldine Mitra has been engaged as general manager, provider and market development.
Andrew Chandler has been named first assistant secretary at the Department of Home Affairs.
Colin Campbell has been made a senior registrar at the Federal Court of Australia.
Band 1
Sacha De Re and Elicia Rudnicki have been appointed assistant secretaries in the defence investments branch at the Department of Finance.
Michelle Craigie has been named assistant secretary at the Department of Health.
Robyn Beutel has moved from the Australian Public Service Commission to the Department of Education, Skills and Employment, to take on the role of branch manager.
Over at the NDIA, Stephen Broadfoot has been promoted to the role of branch manager, payments, while Victoria Stevens has been named branch manager, access and workload management.
Gregory Linsdell and Leo Lahey have been made commanders at Home Affairs.
Meredith Bryant has been appointed to the role of branch manager at Safe Work Australia.
Nelson Bates has taken on a Band 1 Defence role.
National security legislation monitor
Grant Donaldson has been appointed as Australia's acting Independent National Security Legislation Monitor, replacing James Renwick. He will be appointed for an initial period of three months while preparatory arrangements for his permanent appointment are made.
The monitor reviews the operation, effectiveness and implications of Australia's national security and counter terrorism laws.
Donaldson previously served as the solicitor-general for Western Australia, and has held senior leadership positions in the WA Bar Association and the Legal Practice Board of WA.
DFAT
Naïla Mazzucco has been named as Australia's new consul-general in Milan, Italy, beginning in July, while Benson Saulo will take up the role in Houston, Texas in December. They replace Peter McGauran and Sheila Lunter.
Mazzucco has extensive experience in international business and government. She was previously trade commissioner in Abu Dhabi, United Arab Emirates, and in Kuala Lumpur, Malaysia. She has also worked in various roles with Austrade in Australia and for the Western Australian and Victorian governments.
Saulo is a proud descendant of the Wemba Wemba, Jardwadjali and Gunditjmara Aboriginal nations and has had an extensive career across the not-for-profit and private sectors. He is the first Indigenous Australian appointed as an Austrade consul-general. He most recently worked as head of partnerships, investments at Australian Unity, and has held a number of senior positions at ANZ Bank, Good Sheppard Microfinance, and PwC Indigenous Consulting.
Meanwhile, Margaret Twomey has been appointed as Australia's next ambassador to Italy. She will also be accredited to Albania, Libya, and San Marino.
Twomey is a senior career officer with DFAT, and has previously served overseas as head of mission in Suva, Moscow, and Dili. She replaces outgoing ambassador Greg French.
Gregory Andrews is Australia's next high commissioner to Ghana, replacing Andrew Barnes. He will also be accredited to Burkina Faso, Cote d'Ivoire, Guinea, Liberia, Mali, Sierra Leone, Senegal, and Togo.
Andrews is a senior DFAT career officer, and was most recently assistant secretary, international organisations branch. He has previously served overseas as first secretary, Australian Embassy, Beijing. He has also held the roles of threatened species commissioner, Department of Environment and Energy; senior adviser, Office of the Minister for the Environment; assistant secretary, Department of Climate Change and Energy; CEO, Indigenous Community Volunteers; and assistant secretary, Department of Families, Housing, Community Services and Indigenous Affairs.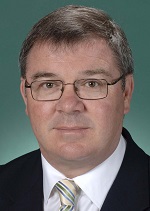 Gary Gray has been appointed as Australia's next Ambassador to Ireland. He was most recently general manager, external affairs at Mineral Resources Ltd, a member of the Independent Parliamentary Expenses Authority, and a trustee of Telethon.
A former national secretary for the Australian Labor Party, Gray has previously served in a number of roles, including parliamentary secretary, and minister for the Public Service and Integrity; for Tourism; for Small Business; and for Resources and Energy. He replaces Richard Andrews.
Sophia McIntyre is Australia's next ambassador to Spain, with accreditation to Equatorial Guinea and Andorra. She replaces Julie-Ann Guivarra.
McIntyre is a senior career officer with DFAT and was most recently assistant secretary, Southeast Asia regional engagement branch. She has previously served overseas in Athens, Colombo and Brasilia. In Canberra, she was involved in the development of DFAT's Women in Leadership Strategy and has worked as senior departmental liaison officer to the Foreign Minister.
Finally, Bronwyn Robbins has been named as Australia's new consul-general in Makassar, Indonesia. Robbins is a DFAT career officer and was most recently director, Southeast Asia development section. She has previously served overseas in Jakarta, Colombo, Bangkok, and Pretoria. She replaces Richard Mathews.
Allied health
Dr Anne-marie Boxall has been appointed as Australia's new chief allied health officer.
Trained as a physiotherapist, Boxall has worked in the public and private sectors for more than 10 years, most recently as a senior executive in the Department of Health.
She will help support the federal government's Primary Health Care 10-Year Plan, health workforce reforms and the $550 million Stronger Rural Health Strategy.
Vic mental health and disability services
Treasure Jennings has been appointed as the new mental health complaints commissioner and the disability services commissioner, and will take on the two roles for a five-year term.
She is the former public transport ombud and deputy chair of the Independent Office for School Dispute Resolution Victoria.
In her new role, Jennings will be supported by the deputy commissioners and staff at each independent body. The state government said there was "no change in funding allocation to either body, and staff will be largely unaffected by having one individual in both commissioner roles".
Jennings replaces outgoing disability services commissioner Arthur Rogers and mental health complaints commissioner Dr Lynne Coulson Barr.
Qld ombud
Anthony Reilly has been appointed as Queensland's new ombud.
He has more than a decade's experience working in the community legal sector, serving as CEO of Legal Aid Queensland since 2009. Reilly has also held key leadership roles in a number of government departments and agencies including Queensland Health, the Department of Premier and Cabinet and the Public Safety Business Agency.
He replaces Phil Clarke.
CASA
Elizabeth Hallett and Marilyn Andre have been appointed to the Civil Aviation Safety Authority Board, each for a three-year term.
The appointments were announced days before The Mandarin revealed CASA head Shane Carmody's planned departure.
Andre has more than 20 years of senior leadership experience across various sectors of the aviation industry and is "actively involved in encouraging, mentoring and promoting women as the future leaders of aviation", according to transport minister Michael McCormack.
Hallett, meanwhile, has an extensive background in legal, regulatory and corporate governance, risk management and strategy development.
They replace Anita Taylor and Cheryl Cartwright.
Vic commissioner to Southeast Asia
Rebecca Hall has been appointed as Victoria's new commissioner to Southeast Asia, replacing Brett Stevens.
She brings more than 20 years of experience in global engagement, industry policy and strategy to the role, having most recently formed part of the Austrade senior leadership team as head of the International Education Centre of Excellence.
Hall has previously worked in the Victorian and Queensland governments, and has held senior roles in the not-for-profit and education sectors as well as industry bodies.
Stevens will end his seven-year tenure to become Victoria's next commissioner to Greater China. Current commissioner to Greater China Tim Dillon will also take on a new role, as commissioner to the United Kingdom, Europe and Israel.
AAT
Sian Leathem has been reappointed as the registrar of the Administrative Appeals Tribunal for a further two years.
She commenced in the role in 2015, and oversaw the amalgamation of the AAT with the former Migration Review Tribunal, Refugee Review Tribunal and the former Social Security Appeals Tribunal in 2015.
Attorney-general Christian Porter said she has played a key role in supporting AAT president Justice David Thomas in "implementing the restructure of AAT's corporate and support services, progressing the digital strategy that includes a single case management system, and completing the Registry Transformation Program".
She recently helped ensure the AAT had adjusted its procedures and operations in response to the COVID-19 pandemic.
Leathem previously served as the inaugural principal registrar of the NSW Civil and Administrative Tribunal, and registrar of the NSW Workers Compensation Commission.
NDIS Independent Advisory Council
There have been several appointments to the NDIS Independent Advisory Council.
Robyn Kruk has been appointed as the new principal member and is joined by four other new members, Tricia Malowney, Sam Paior, Mark Tonga and Sharon Boyce.
Current members Sylvana Mahmic, Liz Reid, Kerry Allan-Zinner, Judy Huett, Jennifer Cullen, Leah van Poppel and James Manders have all been reappointed for another term.
Kruk has previously served as the inaugural commissioner of the National Mental Health Commission, and as secretary of the Department of Sustainability, Environment, Water, Population and Communities. She is a current member of the NDIA Board.
Robert said the majority of council members are people with disability, and all members have either lived experience of disability or are experts in a wide range of disability and advocacy sectors. He thanked all outgoing council members, particularly acting principal member John Walsh.
Vic injecting rooms
Former Victorian police commissioner Ken Lay has been appointed to lead the project for a second supervised injecting room.
It comes after an independent review panel for the first injecting room in North Richmond recommended a second be built in the City of Melbourne, where 51 Victorians died of heroin-related cases between January 2015 and September 2019.
Lay will work with health and drug reform experts to analyse data and evidence on drug harms within the City of Melbourne and oversee a public community engagement process, and will present a report to the minister for mental health by the end of 2020. As part of the role, Lay will also lead the neighbourhood renewal project in North Richmond.
LaunchVic
Leigh Jasper has been appointed chair to the board of LaunchVic, the state's startup agency.
He is joined by Ilona Charles, Teresa Engelhard and Aneetha de Silva, with Constantine Frantzeskos and Catriona Larritt reappointed to the board.
The new appointments replace outgoing chair Laura Anderson and inaugural board members Tim Fawcett and Anne Bennett.
CRA
Clint Peters has been appointed to the role of director of development at the City Renewal Authority.
Peters joined the CRA from the Suburban Land Agency where he was the executive director of sales, marketing, community development, affordable housing and built form initiatives. He was also previously an executive director with the Asbestos Response Taskforce.