The latest senior public sector appointments from across the country.
Senior Executive Service
Band 2
Lynn White and Thomas Ryan have both been appointed to the role of first assistant commissioner at the Australian Electoral Commission. White has previously worked at the Home Affairs, Immigration, and Education departments, while Ryan has worked at the Australian Taxation Office.
Band 1
Leigh Allison, Kylie White, Nicole Bell, Caroline Manning, Susan Moriarty, Christine Kruse, Annette Hayes, Anthony Creek, Simon Heath, and Tenille Collins have all taken on the role of national manager at Services Australia.
Paul Hubbard has been named assistant secretary deregulation taskforce at the Department of the Prime Minister and Cabinet. He is a visiting fellow at the Australian National University, and has formerly worked at the Treasury.
Joanne Reid, Michael Lynch and Kathleen Gleeson have been appointed to the role of assistant commissioner at the Australian Electoral Commission.
An unnamed public servant has been appointed assistant director-general, Europe, Americas, Africa, Koreas and Japan at the Office of National Intelligence.
IPAA ACT
Institute of Public Administration Australia CEO Drew Baker will join the consulting world as a Partner with KPMG in their People and Change business. He has held the role of CEO since 2015.
Caroline Walsh has been appointed as the new CEO, and will commence formally on September 23. She joins IPAA from her previous role as the group manager for inclusion at the Australian Public Service Commission. Walsh has held senior executive roles in federal and state governments covering policy, service delivery and regulation.
Michael Manthorpe, the Commonwealth Ombudsman and deputy president of IPAA ACT, thanked Baker for his role in building IPAA ACT into a prominent platform for promoting excellence in public service. He also welcomed and congratulated Walsh.
Baker and Walsh will feature in a special episode of the Work with Purpose podcast on September 28, alongside IPAA fellow Carmel McGregor.
AEC
Justice Susan Kenny has been appointed as the new chair of the Australian Electoral Commission. She has been a Federal Court judge since 1998, and is currently a deputy president of the Administrative Appeals Tribunal.
Kenny replaces Dennis Cowdroy, who has held the position for the past five and a half years. He is currently the ACT's inaugural integrity commissioner, having been appointed to the role last year after Terence Higgins had his offer for the job withdrawn.
Multicultural Commission
Bwe Thay has been named the new deputy chair of the Victorian Multicultural Commission, replacing Maria Dimopoulos.
Thay arrived in Australia as a refugee in 2009, and has since advocated for diversity and improving education for new and emerging communities. He has been serving as a VMC Commissioner since September 2019, has been a member of the VMC Eastern Metropolitan Regional Advisory Council since 2017, and is the migrant program coordinator at Swinburne University.
Minister for multicultural affairs Ros Spence said Thay would "continue to be a strong advocate for people from diverse backgrounds" in his new role.
Hearing Australia
Shirley Liew and Elizabeth Crouch have been appointed as directors of the Hearing Australia Board.
Liew has a strong commercial background in finance, retail, transport, food, and mergers and acquisitions. She also chairs a number of risk, finance and audit committees, including the Central Coast Local Health District.
Crouch has held a number of roles with the NSW government, including as a board member for Western Sydney Local Health District, Health Infrastructure and the NSW Institute of Sport. She also chairs the boards of the Customer Owned Banking Association, the Sydney Children's Hospital Network and SGS Economics and Planning.
Board chair Dr Peta Seaton has been reappointed for a further two years, as have two existing directors, Sarah Vaughan and Jodie Currie.
ANSTO
Dr Adi Paterson has resigned as CEO of ANSTO ahead of the end of his term. He has decided to take a period of leave before formally finishing.
Shaun Jenkinson will act in the role while the board undertakes a "global search" for a new CEO.
Paterson has led ANSTO since 2009 and has achieved many things in that time, including raising nearly $100m from universities and research institutes to fund construction of additional beamlines, completing the new ANSTO Nuclear Medicine facility at Lucas Heights, establishing the Innovation Precinct with foundation funding from the NSW government, and participating as a Male Champion of Change.
Metro Tasmania
Katie Cooper has been named chief executive of Metro Tasmania. She has previously served as head of transformation and head of aviation operations at Melbourne Airport, as well as head of security at Stansted Airport in the UK, and general manager with Northern Territory Airports.
She has also worked for Ansett Australia, Air New Zealand, the NT Chamber of Commerce, Tourism Central Australia and the Australian Airports Association.
General manager operations Darren Carey has been acting in the role since former CEO Megan Morse resigned in March.
icare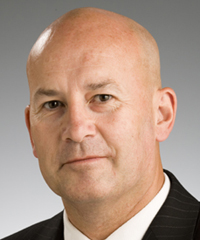 As previously reported in The Mandarin, former NSW Labor leader and ex union boss John Robertson has been appointed as chair of the state insurance agency icare.
He will replace the current chair, Michael Carapiet, from September 25. Deputy chair Gavin Bell will also retire from his role, following the resignations of board member Mark Lennon and CEO John Nagle.